Providing Medical Equipment with Home Comfort
The staff at Criticare Home Health Services, Inc. strive to provide you with the care you deserve and the medical equipment you need to live a happy and full life in your own home.
Our convenient services include:
Clinical respiratory services
Home Medical Equipment Training & Support
Mastectomy fittings / Forms / Supplies
Custom compression fitting (Lymphedema / Edema)
Orthotics Fitting (Back / Ankle / Knee / Elbow / Wrist)
Sales / Rental / Repair of Durable Medical Equipment
We bill insurance directly-Medicare, Blue Cross and Blue Shield and majority of other commercial insurances
Equipment pick-up and delivery for customers
24 hour emergency service
Comprehensive Selection of Respiratory Therapy Supplies
Put your trust in Criticare Home Health Services, Inc. to provide you with the high-quality respiratory care, equipment and oxygen supplies that you can rely on.
We offer a variety of respiratory therapy products:
CPAP and Bilevel equipment and supplies
Medical oxygen equipment and supplies
Tracheostomy Supplies
CPAP/Bilevel accessories and humidifiers
Acapellas / Peak Flow Meters / Spirometers
Bilevel S, ST, and AutoSV Systems
Medical Suction (Stationary and Portable)
Nebulizers and supplies
Concentrators / Regulators / Conservers / Portable Concentrators
CPAP/BiLevel Refills - see recommended replacement schedule below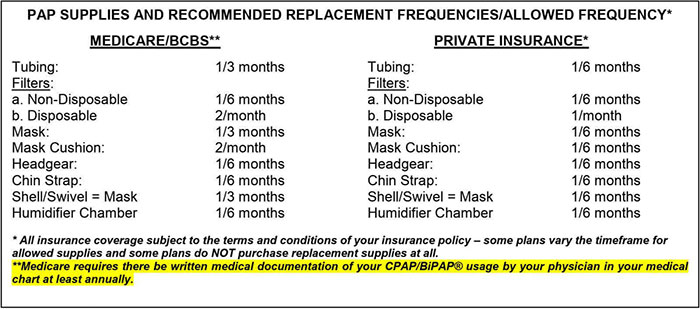 Full Line of Durable Medical Equipment:
Find the equipment you need to become self-reliant in your home when you visit Criticare Home Health Services, Inc.
We offer a variety of durable medical equipment and supplies as well as in-home training, education, local deliveries and 24-hour emergency service.
Mastectomy products with certified fitters
Seat lift chairs and accessories
Aids to daily living and bathroom aids
Bedside commodes
Compression products with certified fitters
Back, ankle, knee, elbow, and wrist orthotics
Wheelchairs / Walkers / Rollators / Canes / Crutches
Hospital beds (semi-electric and full electric)
Hospital bed mattresses (standard/low air loss/alternating/pressure reducing)
Knee scooters
Bath benches/bath chairs/transfer benches
Patient lifts/traction
Orthotics (back/ankle/knee/elbow/wrist)
Tens units and supplies
Many more items
Call, visit or contact us online to learn more about our commitment to your independence at home.